DUO ACRYLGEL NATURAL PINK- 15g
Duo AcrylGel Natural Pink – 15g
Catalog Number: 6103-1
Colour:  Cover Pink
Consistency:  Thick
DUO ACRYLGEL NATURAL PINK - 15g
NeoNail Duo Acrylgel is a novelty that will revolutionize the world of a manicure.
The new product for is an innovative solution - a combination of acrylic strength and lightness and elasticity of the gel.
The product provides:
- dense consistency - does not flood the cuticles,
- it enables extending and modelling of the nails,
- semi permanent - nails are very resistant to damage,
- extension of 5 nails at the same time - without fear of moving the product on the plate,
- application using the forms,
- comfortable to work with without rushing - curing in the LED lamp without feeling the heat,
- odourless
- a choice of 5 shades in two capacities  (15 g, 30g, 60g).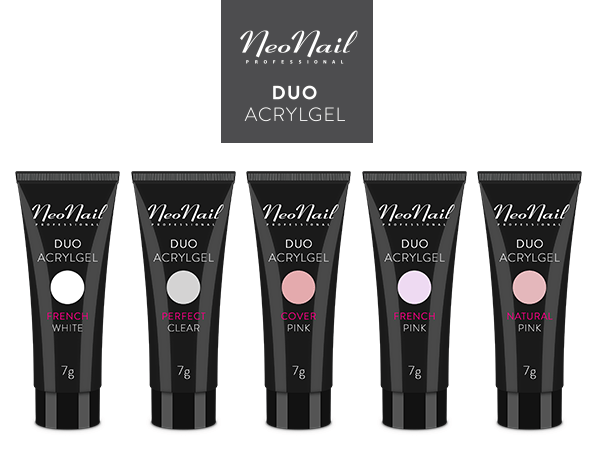 The professional Acrylgel Duo is easier and faster in the application than standard UV gels.
When regrowth starts to appear you can top up the product by applying Duo AcrylGel, once the colour has been removed. Once
these steps are completed and the nail is fresh and ready just paint it with your chosen colour of UV Gel Polish.
Perfect Clear - colourless gel which allows you to extend and shape the nails.
Duo Acrylgel is a revolutionary product in the nail extension and modeling category. He immediately gained your recognition, which contributed to receiving the award:  Consumer Leader of Quality 2018!  Thank you, we are trying to introduce innovative and professional products to the market for you!
Consistency:
Very thick