Eternal Bliss
Degree of coverage: Opaque
Colour: Blue
Capacity: 7.2 ml
Collection: Liberté
Catalog number: 6790-7
Hybrid Nail Polish 7.2 ml  Eternal Bliss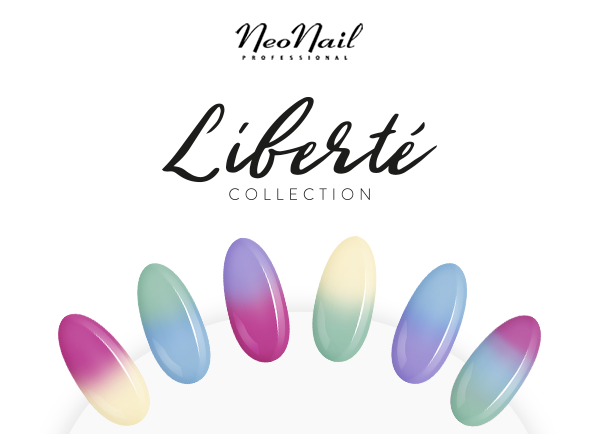 Eternal Bliss
When you need to act, you do your best. When you want to rest, you fall into a blissful state and dream that it lasts forever.
What color is relaxation? For us it's 50% blue and 50% gray! Eternal Bliss is a walk in the woods, the sound of skimming
birch, observing the clouds chasing across the sky - it is the perfect hybrid for a getaway out of town.
1. Gently polish the nail with a polisher , remove any dust formed, then rinse with a cleaner .
2. Apply a thin layer of HARD BASE and cure in an L ED or UV lamp according to the table .
3. Apply a layer of hybrid varnish in the selected color and cure in the LED / UV lamp according to the table (the darker the color, the longer the curing time). To get the color depth repeat the procedure.
4. Apply a layer of HARD TOP to give a very expressive gloss. In the summer, we recommend using TOP Sunblocker instead of the Hard top.
5. Cure in an LED / UV lamp according to the table and then rinse with a cleaner .
6. In order to remove varnish from the nails, polish the shiny layer with a polishing block , then apply Acetone .
* for this purpose, apply acetone on Foil Nail Wraps (or use a dust-free swab and cover the nail with it, then wrap it with aluminum foil) and leave for about 10 minutes. If there are remains of varnish - gel, remove them with a wooden stick or metal dumplings .
How to make a Japanese manicure After removing the hybrid manicure, it is worth doing a Japanese manicure . It gives the shine of a pink pearl, deeply nourishes the natural nail plate, strengthens it and supplies it with natural ingredients (including vitamins A + E), keratin, bee pollen and silica from the Sea of ​​Japan. Prevent the problem of damaged and brittle nails. The treatment will make the plate stronger, full of silky glow and healthy appearance.